---
Festival walk store
Not available
HomeSquare store
Not available
K11 MUSEA store
Not available
Pacific Place store
Not available
PopCorn store
Not available
Online store
Not available
Return & refund policy
Last updated: 2 Mar 2020
Return and exchange is applicable to the following conditions:
Product Defect
Delivered within 7 days;

A certified product quality problem;

The application must be a product of the same model and the same color as originally purchased;

If the product is a discontinued or outlet item, J SELECT will offer the customer a refund of the purchased amount;

Damage caused by personal accident are not applicable;

Personal care products, food and healthcare products, headsets, earphones and watches are not applicable;

Application without accompanying required supporting documents or information as stated below ("Supporting Documents") is not accepted.
Supporting Documents for the Application:
Photo or video of the defective item;

Product with complete original packaging;

All product accessories and manual came with the original packaging;

Product warranty card (a clean copy without filling in the information);

Receipt of the purchase;

Delivery invoice;
Application procedures:
Describe the damage that has occurred by sending an email to cs@jselect.com

For orders purchased at online (jselection.com and other 3rd party platform we operate), J SELECT will arrange collection of the product by a logistics company or you can simply return the product to our offline stores. However, prior to return the products to our stores, please bring along the email acceptance of the return and exchange received from our Customer Service department.

For orders purchased at J SELECT offline stores, please visit our J SELECT offline stores for return and exchange.

Remarks:
This Application applies to both J SELECT online and offline stores.

Customer may contact our Customer Service hotline at 2926 2300 during service hours (Monday to Friday, 9:00am to 8:00pm, Saturday, 9:00am to 6:00pm).

Customer may cancel online orders by sending an email to cs@jselect.com or contacting our Customer Service hotline before receiving delivery confirmation by call or email.

J SELECT will charge a handling of 4% of the grand total of the order or HK$300, whichever is higher.

In case of dispute, J SELECT reserves the right for final decision.
Overview Specification Review (0)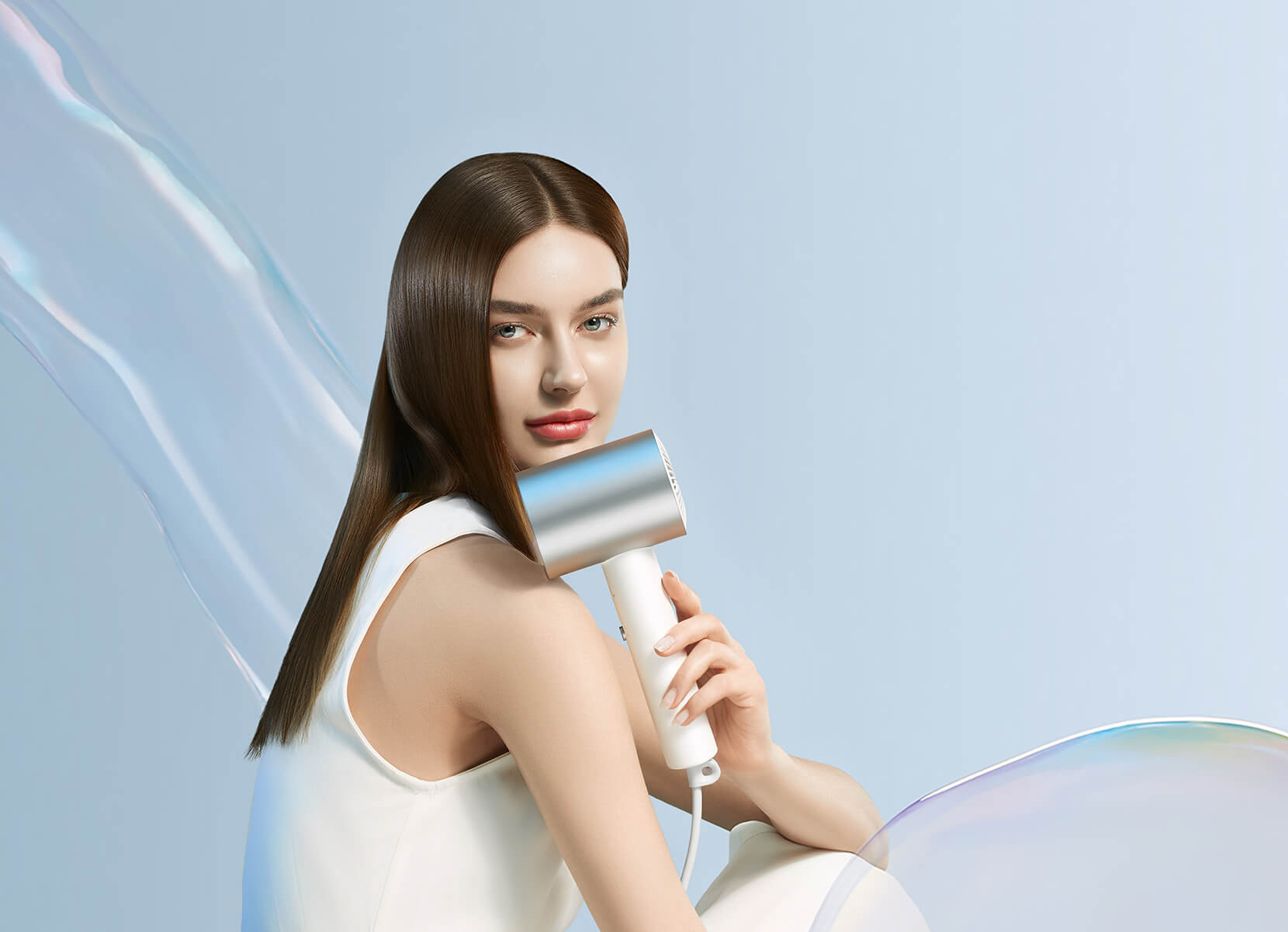 A Moisture-infusing Hair Dryer
The double water ions* are deeply penetrated into your hair for lasting protection and a smooth shine. With tens of millions of negative ions*, this hair dryer can keep the natural moisture in the hair while also effectively reducing split ends and frizz, thus improving hair strength and making it more resilient.

Upgraded Water Ion Deep Hydration Technology*
The built-in condenser* condenses the moisture in the air and two needle-shaped motors rapidly atomize it into tiny negative water ions. Through a separate cold-air channel, these ions are delivered directly to the hair, scalp, and root, which protects your hair from being damaged by excessive temperatures while also hydrating it.
Helps You Create a Smoother, Shinier Blowout
Hydration+26.47%*
Gloss+9.12%*
Hair Elasticity+11.86%*

20m/s* Ultra-high Airflow Speed Dries Your Hair Quickly Without High Heat
Inspired by the principle of aviation engines, Xiaomi Water Ionic Hair Dryer H500 is equipped with a DC high-speed motor with speed of 20,000 rpm and seven wing-shaped turbine blades, which generate airflow through squeezing the air out of a conical pressurized air duct. The highest airflow speed is 20m/s, allowing strong airflow to reach the root and dry your hair swiftly without any damage.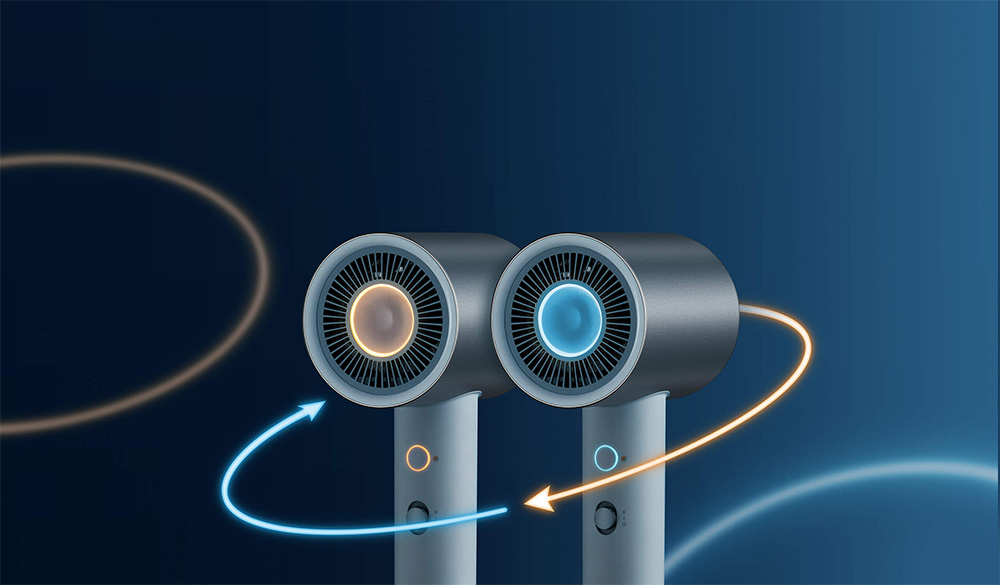 Smart Hot/Cold Air Alternating Mode to Prevent Hair Damage
The glass bead thermal sensor can accurately detect the air outlet temperature 60 times per second*, and adjust the airflow temperature in real time to avoid overheating your hair and scalp. Its hot/cold air alternating mode - hot air for quick drying, cold air for styling - not only protects the hair surface from getting scorched or damaged, but also moisturizes the ends and offers enough care for the sensitive scalp.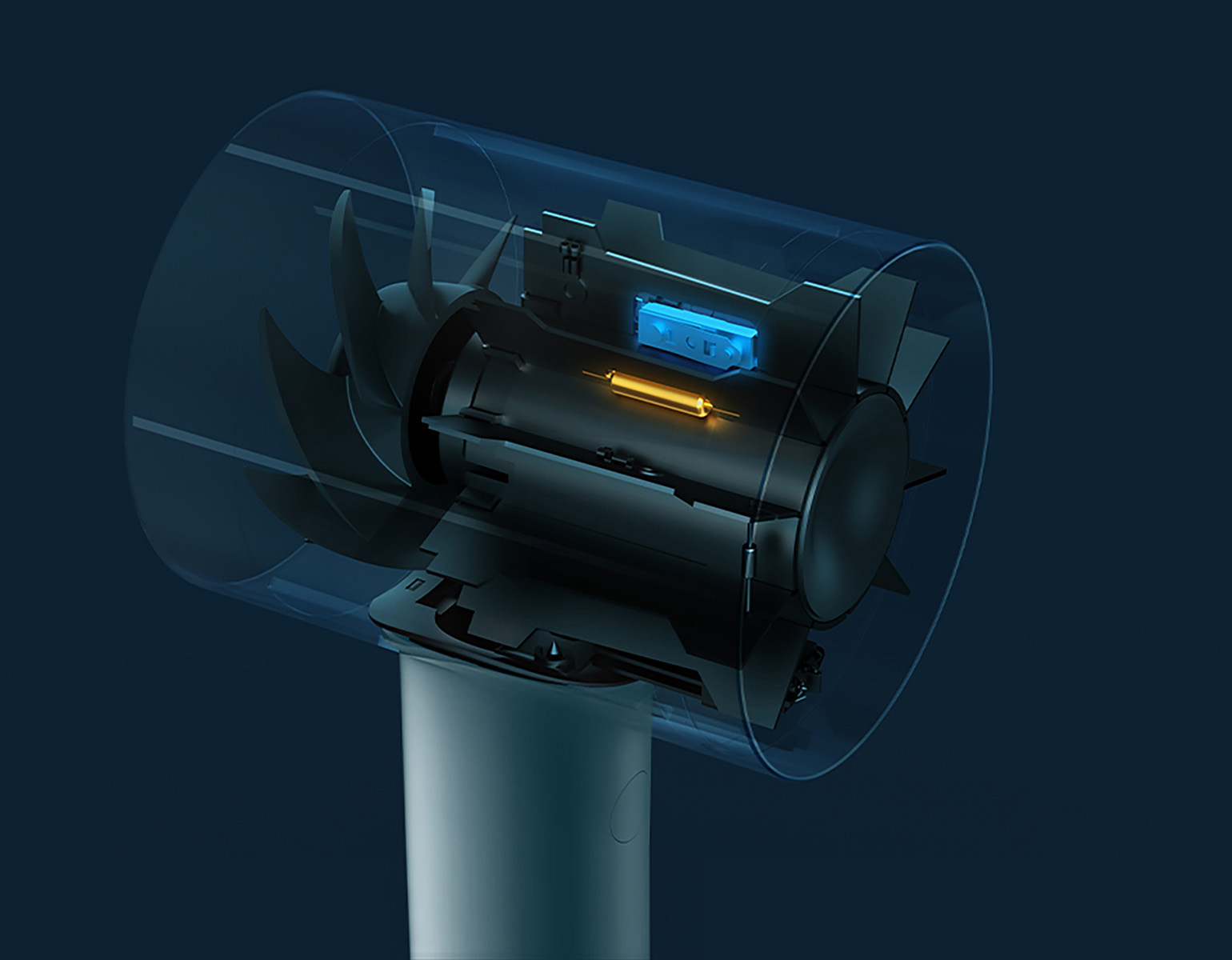 Multiple Overheat ProtectionKeeps You Safe
When NTC detects that the air temperature is too high, it stops heating; the high-precision temperature control module will automatically cut off the power in the event of excessively high temperatures; fuse protection will be triggered when the temperature exceeds the safe range to ensure safety.
Name Xiaomi Water Ionic Hair Dryer H500
Model CMJ03LX
Rated Voltage 220V~
Rated Frequency 50-60Hz
Rated Power 1800W
Power Cord Length 1.7m
Net Weight 595g (including Concentrator Nozzle)
Dimensions 144 × 79 × 237mm (including Concentrator Nozzle)
Package contents Hair Dryer ×1 Magnetic Nozzle ×1 User Manual ×1