Jura S8 (INTA) automatic coffee machine
You can earn:
17,880 jrewards + 1,788 Asia Miles
---
5 coffee specialties programs Coffee Specialties

Compact

JURA fine foam technology

Stiftung Warentest – awards

Mobile App Contro

l
---
Festival walk store
Not available
HomeSquare store
Not available
K11 MUSEA store
Not available
Pacific Place store
Not available
PopCorn store
Not available
Return & refund policy
Last updated: October 21st, 2021
Return and exchange is applicable to the following conditions:
Product Defect
Delivered within 7 days (Not applicable to Apple products);
A certified product quality problem;
The application must be a product of the same model and the same color as originally purchased;
If the product is a discontinued or outlet item, J SELECT will offer the customer a refund of the purchased amount;
Damage caused by personal accident are not applicable;
Personal care products, food and healthcare products, headsets, earphones and watches are not applicable;
Application without accompanying required supporting documents or information as stated below ("Supporting Documents") is not accepted.
The product to be returned may require to be inspected by authorized dealer and issue an inspection report that certified a product quality problem. This policy applies to brands including but not limited to Nintendo, Samsung and XiaoMi.
Refund and exchange is not applicable for all Apple products. Customers may visit the Apple Authorized Service Provider for product support and assistant with the original invoice issued by J SELECT during warranty period. All matters and disputes will be subject to the final decision of Apple Authorized Service Provider.
Refund and exchange policies for Samsung home appliances products, please refer to "Additional Info" section in the product page.
Supporting Documents for the Application:
Photo or video of the defective item;
Product with complete original packaging;
All product accessories and manual came with the original packaging;
Product warranty card (a clean copy without filling in the information);
Receipt of the purchase;
Delivery invoice;
Application procedures:
Describe the damage that has occurred by sending an email to cs@jselect.com
For orders purchased at online (jselection.com and other 3rd party platform we operate), J SELECT will arrange collection of the product by a logistics company or you can simply return the product to our offline stores. However, prior to return the products to our stores, please bring along the email acceptance of the return and exchange received from our Customer Service department.
For orders purchased at J SELECT offline stores, please visit our J SELECT offline stores for return and exchange.

Remarks:
This Application applies to both J SELECT online and offline stores.
Customer may contact our Customer Service hotline at

2926 2300

during service hours (Monday to Friday, 9:00am to 8:00pm, Saturday, 9:00am to 6:00pm).
Customer may cancel online orders by sending an email to

cs@jselect.com

or contacting our Customer Service hotline before receiving delivery confirmation by call or email.
J SELECT will charge a handling of 4% of the grand total of the order or HK$300, whichever is higher.
In case of dispute, J SELECT reserves the right for final decision.
Overview Specification Review (0)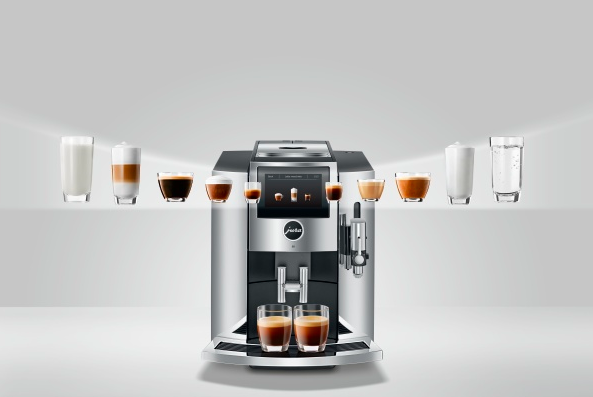 So many moments of pleasure to choose from
The stylish S8 creates the full range of specialities from espresso to latte macchiato to a masterful standard of quality. With just a touch on the colour touchscreen display, one of 15 different specialities flows into the cup. This is thanks to several outstanding innovations. The AromaG3 grinder is now even more precise and twice as fast, yet preserves all the delicious aroma of the coffee beans. The Pulse Extraction Process (P.E.P.®) ensures the optimum extraction time for short specialities and delivers a taste explosion for espresso and ristretto. Trend specialities finished with milk and milk foam are brought to perfection thanks to fine foam technology.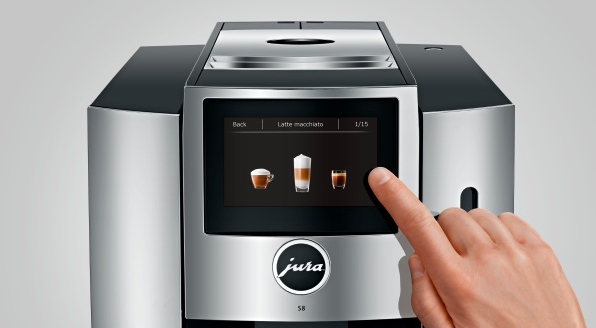 Thoroughly modern operating concept
The integrated 4.3" high-resolution colour touchscreen display makes the machine incredibly simple to operate. A gentle touch with your fingertip on the screen, and your favourite beverage flows into the cup. The innovative operating concept with an eye-catching screen succeeds because it is so clear, simple and modern. Graphics and animations show every step of preparation, guiding the user through the process. The concept is designed to help you find what you want quickly. Individual preferences can be programmed in a few easy steps, allowing you to rename, move, copy or duplicate products in no time.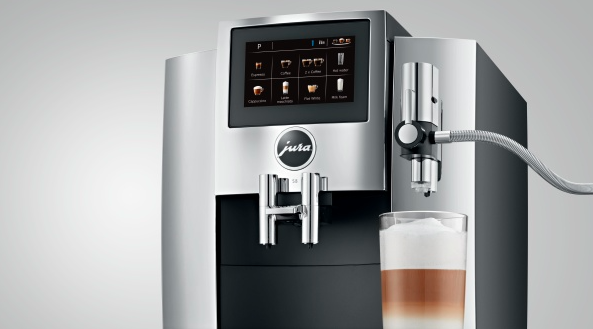 The ultimate milk foam
Characteristic JURA design reflects precision and quality down to the smallest detail. The new professional fine foam frother on the S8 is made from the highest quality materials and has a stunning look and feel. Specially designed for the preparation of speciality coffees with milk and milk foam, it makes latte macchiato and other beverages with the very best fine-textured foam – every time. Graphics and modern animations on the display make it easier than ever to use.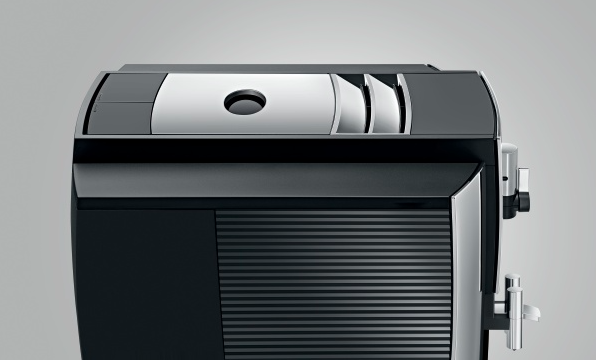 Design in top form
Careful attention to detail maintenance definitely puts the stylish design of the S8 in a class of its own. The high-quality, grooved water tank with a handle made of real metal and the heavy, chrome-plated cup grille add subtle accents. The cover of the bean container, made of hand-polished die-cast zinc, embodies the quality of the complete product. Details and thoughtful touches give the S8 a unique feel which is sure to please those who appreciate good design.
Water tank capacity: 1.9 L

Container Capacity: 280 G

Dimensions (W x H x D): 28 x 34.8 x 44.4 cm

Weight: 10 Kg