BenQ MindDuo e-read lamp
You can earn:
1,999 jrewards + 199 Asia Miles
---
[Broad enough] 95cm ultra-wide lighting: unique optical design, the irradiation area is 150% of the general desk lamp
[Bright enough] Brightness detection automatic dimming: Provides comfortable light with sufficient brightness and uniform light
[Intimate enough] Automatically turn on the light when seated: Infrared detection and induction will automatically provide light, and automatically turn off the light after 30 minutes away from the seat
---
Festival walk store
Not available
HomeSquare store
Not available
K11 MUSEA store
Not available
Pacific Place store
Not available
Festival walk store
Not available
HomeSquare store
Not available
K11 MUSEA store
Not available
Pacific Place store
Not available
Return & refund policy
Last updated: October 21st, 2021
Return and exchange is applicable to the following conditions:
Product Defect
Delivered within 7 days (Not applicable to Apple products);
A certified product quality problem;
The application must be a product of the same model and the same color as originally purchased;
If the product is a discontinued or outlet item, J SELECT will offer the customer a refund of the purchased amount;
Damage caused by personal accident are not applicable;
Personal care products, food and healthcare products, headsets, earphones and watches are not applicable;
Application without accompanying required supporting documents or information as stated below ("Supporting Documents") is not accepted.
The product to be returned may require to be inspected by authorized dealer and issue an inspection report that certified a product quality problem. This policy applies to brands including but not limited to Nintendo, Samsung and XiaoMi.
Refund and exchange is not applicable for all Apple products. Customers may visit the Apple Authorized Service Provider for product support and assistant with the original invoice issued by J SELECT during warranty period. All matters and disputes will be subject to the final decision of Apple Authorized Service Provider.
Refund and exchange policies for Samsung home appliances products, please refer to "Additional Info" section in the product page.
Supporting Documents for the Application:
Photo or video of the defective item;
Product with complete original packaging;
All product accessories and manual came with the original packaging;
Product warranty card (a clean copy without filling in the information);
Receipt of the purchase;
Delivery invoice;
Application procedures:
Describe the damage that has occurred by sending an email to cs@jselect.com
For orders purchased at online (jselection.com and other 3rd party platform we operate), J SELECT will arrange collection of the product by a logistics company or you can simply return the product to our offline stores. However, prior to return the products to our stores, please bring along the email acceptance of the return and exchange received from our Customer Service department.
For orders purchased at J SELECT offline stores, please visit our J SELECT offline stores for return and exchange.

Remarks:
This Application applies to both J SELECT online and offline stores.
Customer may contact our Customer Service hotline at

2926 2300

during service hours (Monday to Friday, 9:00am to 8:00pm, Saturday, 9:00am to 6:00pm).
Customer may cancel online orders by sending an email to

cs@jselect.com

or contacting our Customer Service hotline before receiving delivery confirmation by call or email.
J SELECT will charge a handling of 4% of the grand total of the order or HK$300, whichever is higher.
In case of dispute, J SELECT reserves the right for final decision.
Overview Specification Review (0)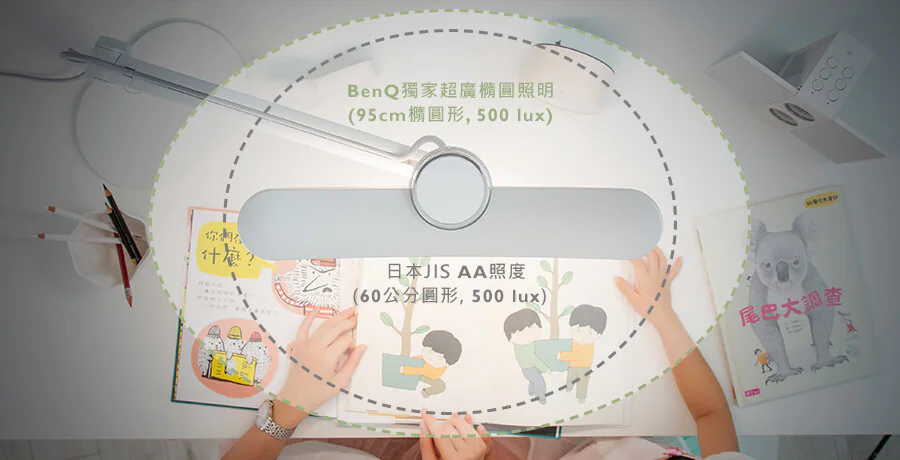 Broad and uniform and then upgraded,BenQ exclusive 95cm ultra-wide elliptical lighting
95cm ultra-wide elliptical lighting. Brightness detection intelligent dimming. Automatically turn on the light when seated.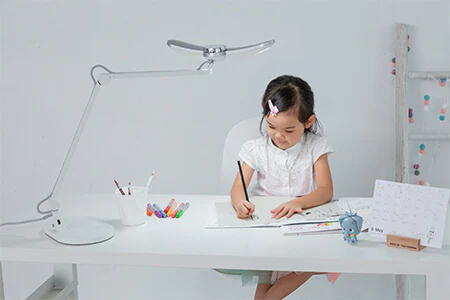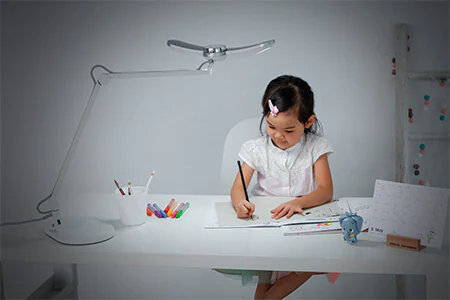 Detect the environment, intelligently supplement the brightness required for reading
Through the intelligent dimming mode, the MindDuo parent-child reading lamp will provide sufficient brightness according to the environmental status, giving children a comfortable light suitable for reading and writing, so there is no need to worry about how bright the lamp should be.

Infrared seat sensor, actively turn on the light for the child.
In low-light conditions, children often forget to turn on the light, and reading in the dark can cause vision damage.As long as the seat sensing function is turned on, it can be detected by infrared sensing, and the light will be turned on automatically when the child is seated.

In addition to smart dimming, it can also display the ambient brightness status
Ambient light sensor with a brightness display panel can actively detect the brightness status of the environment. No matter where the child is, it can remind you whether the brightness of the environment is bright enough, too bright, or too dark.Just look at the panel and you will know if it is enough. Bright, can help you adjust the most appropriate light source brightness through the knob.
According to the use situation,freely change the cold and warm color temperature
MindDuo not only gives you 4000K, but also an ultra-low blue light temperature of 2700K, which increases melatonin to make your child sleep well. The white light above 4000K can concentrate the mind and is suitable for children to focus on learning and use.The warm yellow light of 2700K has extremely low blue light spectrum components, which will not affect the secretion of children's melatonin, allowing children to fall asleep quickly, and is suitable for reading two hours before bedtime.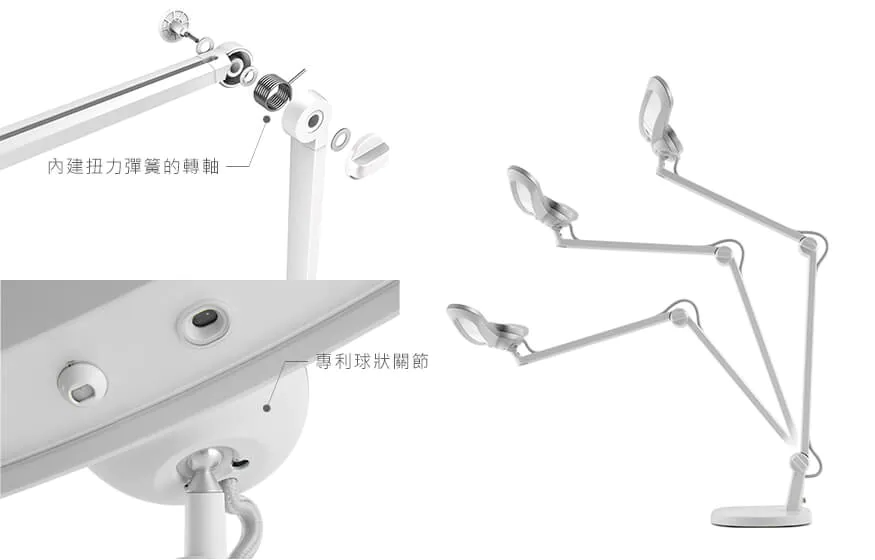 Patent spherical joint x torsion spring flexible rotation angles
A table lamp that can accompany the child to grow up should be able to easily adjust the lamp holder and lamp arm to suit the child's height and learning posture. The MindDuo parent-child reading lamp has a built-in torsion spring shaft and spherical joints,allowing children to easily adjust the lighting height and angle by themselves, and the lighting range will no longer have a blind spot.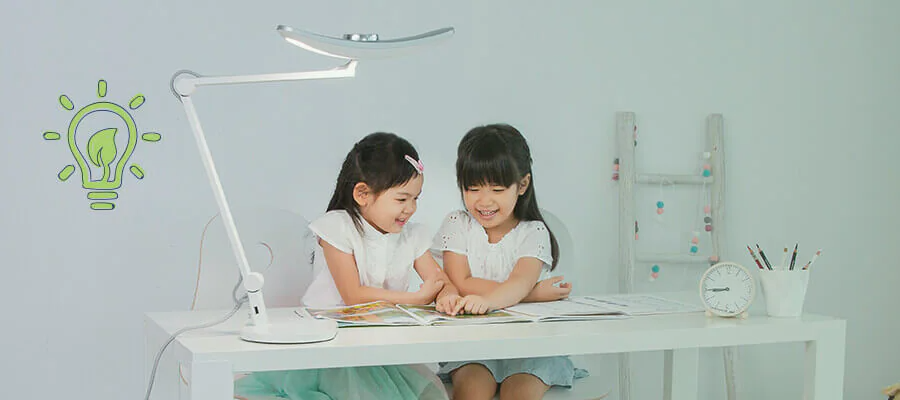 LED life of up to 17 years of energy-saving and energy saving
The LED light source can be used for up to 50,000 hours. If it is used 8 hours a day, it can be used for 17 years. It will accompany children's learning and growth all the way.In addition to the long life of the LED light source, it can save more electricity bills over time.
Light source category‎: Cold and warm dual-color LED‎
Color rendering: > 97
Illuminance: Center Illumination 1600Lux (45cm from the irradiation surface)
Color temperature setting: 2700 ~ 5700K
Power input: 100~240V AC, 50~60 Hz
Maximum power consumption‎:

1

8W (maximum)
Size‎: 39.5cm x 48cm x 34.5cm‎
Weight‎

:

3.5 kg‎
USB DC power output‎: 5V/0.5A
Material‎

:

Aluminum alloy, Engineering plastic (engineering plastic)‎
Accessories: You can also purchase a table clip and table mat for use