ASUS ROG Ranger BP2500 gaming backpack
You can earn:
998 jrewards + 99 Asia Miles
---
Spacious storage
Elaborate details
Ergonomic design
Durable construction
Built-in luggage strap
Extra privacy
---
Festival walk store
Not available
HomeSquare store
Not available
K11 MUSEA store
Not available
Pacific Place store
Not available
PopCorn store
Not available
Online store
Not available
Return & refund policy
Last updated: 2 Mar 2020
Return and exchange is applicable to the following conditions:
Product Defect
Delivered within 7 days;

A certified product quality problem;

The application must be a product of the same model and the same color as originally purchased;

If the product is a discontinued or outlet item, J SELECT will offer the customer a refund of the purchased amount;

Damage caused by personal accident are not applicable;

Personal care products, food and healthcare products, headsets, earphones and watches are not applicable;

Application without accompanying required supporting documents or information as stated below ("Supporting Documents") is not accepted.
Supporting Documents for the Application:
Photo or video of the defective item;

Product with complete original packaging;

All product accessories and manual came with the original packaging;

Product warranty card (a clean copy without filling in the information);

Receipt of the purchase;

Delivery invoice;
Application procedures:
Describe the damage that has occurred by sending an email to cs@jselect.com

For orders purchased at online (jselection.com and other 3rd party platform we operate), J SELECT will arrange collection of the product by a logistics company or you can simply return the product to our offline stores. However, prior to return the products to our stores, please bring along the email acceptance of the return and exchange received from our Customer Service department.

For orders purchased at J SELECT offline stores, please visit our J SELECT offline stores for return and exchange.

Remarks:
This Application applies to both J SELECT online and offline stores.

Customer may contact our Customer Service hotline at 2926 2300 during service hours (Monday to Friday, 9:00am to 8:00pm, Saturday, 9:00am to 6:00pm).

Customer may cancel online orders by sending an email to cs@jselect.com or contacting our Customer Service hotline before receiving delivery confirmation by call or email.

J SELECT will charge a handling of 4% of the grand total of the order or HK$300, whichever is higher.

In case of dispute, J SELECT reserves the right for final decision.
Overview Specification Review (0)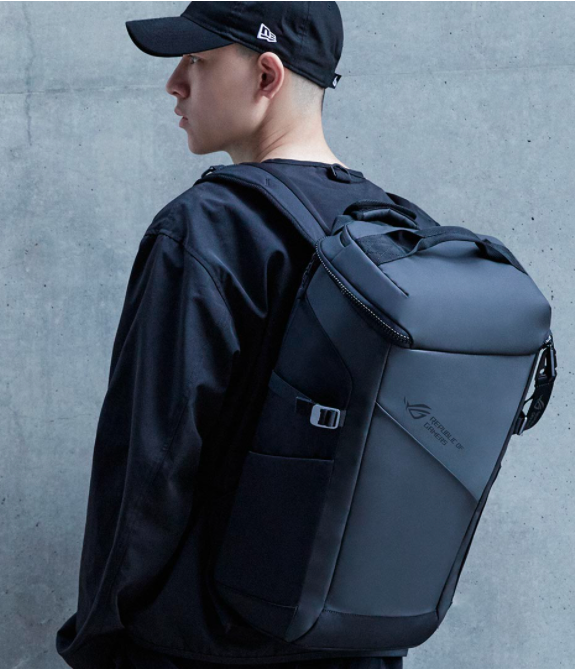 A Reflection of Style
ROG Ranger BP2701 is a lightweight backpack that shows off your sense of style.
Its exterior features bold slashes and provides a reflective surface, along with holographic ROG logo and script.
Ranger BP2701 is made out of durable high-strength polyester that's both water-repellent and scratch-resistant.
This keeps weight down to just 0.93 kg, so you stay comfortable when on the move.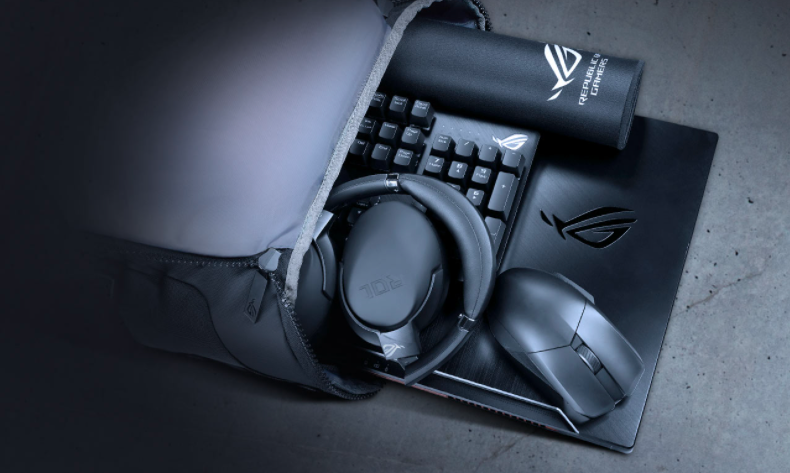 Level Up Your Storage
The 22-liter ROG Ranger BP2701 Gaming Backpack has a large padded pouch that accommodates up to a 17-inch laptop, along with multiple pockets for a full-size keyboard, mouse and mouse pad, headset, charger, and other gear.
A water-resistant pocket on top of the backpack provides quick access to essentials like a power bank or headphones.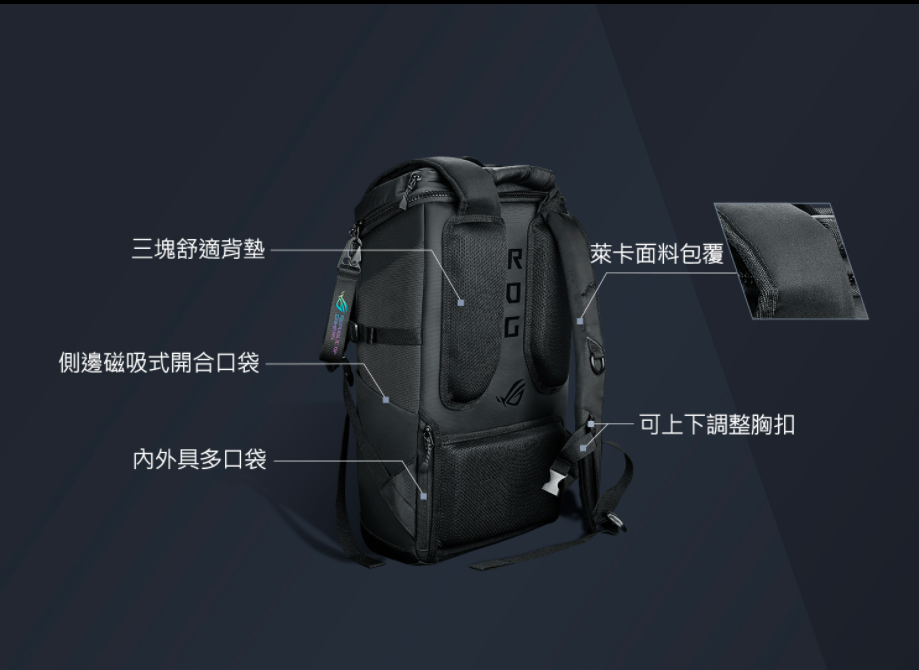 Cool and Comfortable
Three high-quality mesh-covered back pads allow cool air to circulate, and mold comfortably to your natural posture.
The adjustable padded Lycra shoulder straps sit squarely on your shoulders, while the chest strap can be raised or lowered to ensure a perfect fit so you stay comfortable.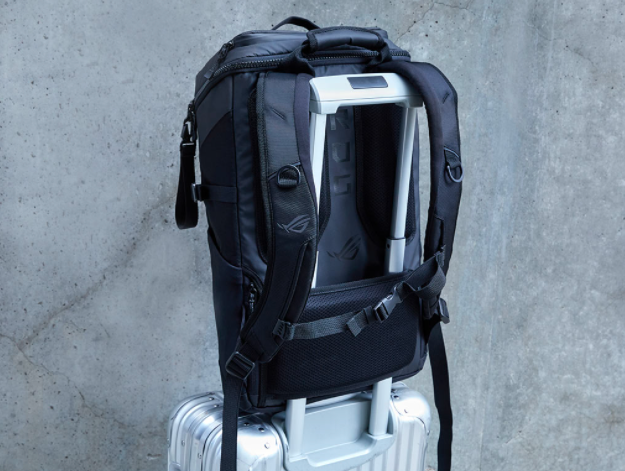 Designed for Daily Convenience
A built-in luggage strap adds another layer of everyday convenience, enabling you to quickly secure Ranger BP2701 to other pieces of luggage.
There's also a side zipper that gives you quick access to a concealed pocket.
Compatibility Model: 17"
Feature: Water-Repellent, Lightweight, Reflective
Dimensions: 315 x 490 x 155 mm
NB Compartment Size: 293 x 415 x 26 mm
Weight: 0.93kg
Material: Polyester, PU, Reversed Polyester
Package Contents: Bag